Blog For Free!
Archives
Home
2006 August
2005 April
2004 December
2004 October
2004 September
2004 July
2004 June
2004 May
2004 April
2004 February
My Links
Home
Best websites for auto insurance quotes
2005 Mitsubishi Eclipse
2005 Ford 500
2005 Chrysler Crossfire
2005 ford mustang Mach 1
2005 Nissan Altima
2005 Dodge Dakota
2007 Nissan Skyline GT-R
Hybrid Cars
Dons Auto Pages
Technorati Profile
Digital Cameras
Le Blog Auto
tBlog
My Profile
Send tMail
My tFriends
My Images
Sponsored
Create a Blog!
Toyota dealer San Diego
CrispAds Blog Ads
Contact me for any details at ispire@rediffmail.com
What Chevrolet Camaro fans said
08.01.06 (2:00 pm) [edit]
I think chevy should come back with this design because the reason is if they do come back with the camaro is will it out sell the corvette? if it does who cares it will be better to sell for chevy and it will overtake the mustang with no problem at all and see ford is got the mustang, dodge has just came back with its hemi and the charger, only this chevy has is the corvette now if they come back with the camaro then i think that chevy will outsell both ford and chevy by far because the 07 camaro has a ls6 6.9 liter v8 and thats just the z28 i wonder what the ss would come out with?

Now see the 6.9 liter v8 has 570 hp tops at 205 at 62 grand now u compare that with the camaro's enemy the mustang the mustang has what a 293 4.6 liter v8 i know they are fast but compare that to the 07 camaro. see wha ti mean? it would out sell the mustang. now the hemi powered charger its a 426 hemi basically with the 5.7 liter v8 and see that basically just chevy's 350 that they put in the older silverado's and it is a 350 5.7 liter v8 and they are basically the same as the 426 hemi and i mean the camaro would out sel l both with no problem.

And my point for all this is, why did chevy quit making the camaro and firebird? they are stupid for doin that and i really do hope that they come back with this, good job with designing this model of camaro looks good with the old 69 front end looks really good.

2.
Hey guys, I have been a Camaro buyer for 20 years, I cant wait til this car shows up. I already emailed the spec pics to my dealer!

3.
GM needs to use Kris Horton's desgin to make the ultimate musclue car in history!


2006 Mustang Cobra SVT, 2006 cobra
04.04.05 (11:16 am) [edit]
Not much is known about 2006 Mustang Cobra SVT. Ford is keeping it under tight wraps away from public eyes. Next generation of Ford's supercharged sports truck F-150 Lightning SVT is shelved from its line.

Bad news for truck lovers but good news is that, Ford is going to put its energy in development of 2006 Mustang Cobra SVT. One thing is for sure that the car will sure be a high performance vehicle and 2006 cobra is going to make headlines soon.


2007 Chevrolet Camaro, 2007 Camaro mystery
12.19.04 (9:24 am) [edit]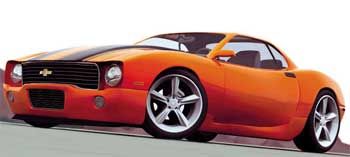 GM as officially mentioned the Camaro and Firebird will not be made any longer after a stint of 35 years. The fans for Camaro could not take this and are in a hope that new version would come. There is a rumour of it comming back but how true is that is not known. Teenager Kris Horton took the task and designed the fifth generation of Camaro taking the clues from the previous models and made a marvelous design out of it. This design is his own and has nothing to do with GM Camaro.

Horton favors the heritage look for the [b]2007 Chevrolet Camaro[/b]. Horton said "One of the cars I look to for inspiration is the SSR. But I didn't feel that the SSR really satisfied what all the enthusiasts wanted. I wanted to do a take on a first-generation Camaro because many people were sad to see it go."

GM does not accept any renderings from outside for legal reasons. So the car would not be made real but thumbs up for a good effort by Kris Horton for the wonderful concept for [b]2007 Camaro[/b]. Now the point is is Camaro Dead.


Chrysler, Ford Recall Over 1 Million Vehicles
12.16.04 (10:16 am) [edit]
DaimlerChrysler is going to recall 600,000 dodge duranga sport utility vehicles with Dodge Dakota pickup trucks because of their safety concerns.

Similarly Ford motor co. is also going to recall 474,000 Escape and Mazda Tribute SUVs.

Chrysler said that front suspension upper ball joints on some vehicles may be subject to corrosion and progressive wear. In extreme scenerios the problem due to corrosion could end up in seperation of front suspension.

However their is no case of injury so far. The company mentioned that it is going to replace the front suspension upper ball joints on cars and owners need not to pay anything for that.


2006 BMW 3 Series
10.19.04 (12:49 pm) [edit]
It is not official but according to rumours the [b]2006 BMW 3 Series [/b]will have new 3.0 ltr inline 6 with 258 HP where as the other trim 2.5 ltr I-6 will have a horsepower of 218 HP. Gear ratios would be most probably controlled by 6 speed manual or 6/7 speed smg. [b]2006 BMW 3 Series [/b]would look more like a smaller version of the earlier 5-series.

The car would have host of new comfort and convenience features and would keep its image of best selling sedan. It is not for sure that 2006 model or 2008 would have 400 HP V8 engine.


2006 Dodge Charger
09.28.04 (12:22 pm) [edit]
There is not much official anouncement for this vehicle but according to rumors it is expected to be seen in North American International Auto Show somewhere in the very begining on January. 2006 Dodge Charger will be a rear wheel drive sedan that would replace Interpid which could complement the Magnum.

We could expect 425 Hp for the new charger. This car would be most probably based on LX platform. 2006 dodge charger sedan would be having 4 doors. It is most likely to have 6 speed manual transmission.

It could have 3.5 litrs V6 engine or with an optional version of 5.7 L Hemi V8 engine. The SR8 version would have 6.1 L V8 from 300C chrysler. The speed would be 0-60km in 5 seconds for SR8 models.


2005 Ford GT
07.08.04 (11:11 am) [edit]

The 2005 Ford GT is a low-slung, two-seat, mid-engine V8 supercar designed to beat the best from Ferrari and Lamborghini. Bad news is that total production for cars in first year would be between 1000-1500 units. The price tag would be between $135,000-$150,000.

[b]Powertrain[/b]

Engine Type: DOHC, 4 valves per cylinder, supercharged V-8
Engine Displacement (L): 5.4
Bore/Stroke (mm): 90.2x105.8
Displacement (cu in/cc): 330/5409
Compression Ratio (in/mm): 8.4:1
Material: Aluminum block
Horsepower @ RPM: 550@6,500
Torque @ RPM (lb ft): 500@3,750
Horsepower Specific Output (hp/liter): 101.9
Torque Specific Output (lb ft/liter): 92.6
Recommended Fuel: 91 octane (premium)
Fuel System: Sequential multi-port electronic fuel injection -(SEFI) with dual injectors per cylinder
Oil Capacity with Filter (quarts): 12
Usable Fuel Capacity (gal): 17.5

[b]Exterior Dimentions[/b]

Wheel Base (in): 106.7
Overall Length (in): 182.8
Overall Height at curb (in): 44.3
Overall Width (in): 76.9
Front Track (in): 63
Rear Track (in): 63.7
Weight Distribution (ft/rear): 43/57
Overall Shadow (sq ft): 96.8
Approach Angle (deg): 9.2
Departure Angle (deg): 14.0

[b]Interior Dimentions[/b]

Seating Capacity: 2
Leg Room (in): 44.6
Head Room (in): 35.4
Shoulder Room (in): 57.7
Hip Room: 57.8
Passenger Volume (cu ft): 52.8
Interior Volume Index(cu ft): 54.4


2005 Honda Accord V6 Hybrid car, images released
07.04.04 (9:27 am) [edit]

Honda Motor released 2005 Honda Accord V6 Hybrid images few days back. Honda Accord is one of the best selling car for Honda and its gas electric version is due for release at the end of this year or at the beginning of next year. The Hybrid version for 240-HP Accord V6 will have improved performance with better fuel efficiency.

The fuel saving technology behind Honda hybrid is (VCM) Variable Cylinder Management, which deactivates 3 from total of 6-cylinder engine during cruising and deceleration and above all the performance of the car, is not changed and driver does not feel when the deactivation took place.

Integrated Motor Assist (IMA) hybrid system helps in efficient engine operation and it captures electric energy when brakes are applied or during deceleration to charge the batteries and power the vehicle. The engine is shut off when the car is still and thus reduces exhaust and in turn saves fuel.


SONY AND FORD TO BRING `SOUND DESIGNED BY SONY' TO NEW 2005 FORD FOCUS CARS
06.11.04 (1:39 am) [edit]
Sony and Ford are joining hands to bring best sound systems for 2005 Ford Focus. The 3, 5, 4 door models would have optional "Sound Designed by Sony" with coaxial door speakers, eight-inch subwoofer which is tuned keeping the internal structure of the car into consideration which could achieve outstanding acoustic performance. It would have six-disc in-dash CD,AM,FM,MP3 player.

For the first time sony branded system would be factory installed in a vehicle in North America. The drivers for the new Ford would have outstanding experience while listning musinc while driving. The audio system is specially designed for 2005 Ford Focus keeping acoustical conditions in mind.


2005 Honda Odyssey, 2005 Odyssey
06.04.04 (12:35 am) [edit]
2005 Honda Odyssey will be standing against Sienna for the minivan segment which has picked up on old odyssey. The interiors would have an upgraded look with better space availability. The car might come to dealers in August-September(much awaited). The Honda has kept the vehicle in wraps and not much is known about the features. The rumor is that it might come with:-

1. Rollover sensors and better stability.

2. Advanced body structure which could disperse/absorb the weight of impacts thus making it more safe driving.

3. Incresed gas mileage with change in use of number of cylinders from 6 and 3 while accelerating and running.

4. Voice navigation system present in Honda Accord could be present in 2005 honda odyssey.

The car is going to be good competitor in its segment and also would be giving a better mileage in the age of hybrid cars. The mileage would be unique feature for buying this car in the age of soaring gas prices and environmental problems not to say increased dependance on other countries for fuel.


2005 Mitsubishi Eclipse Compact Coupe-Hatchback
06.04.04 (12:17 am) [edit]
Better power, new platform 2005 Mitsubishi Eclipse is truely a futuristic car unvieled in North American International Auto Show. It is going to be much better then the current model.

A second generation eclipse it has uniquely styled hatchback and it is going to have both 4 and 6 cylinder engine. The warranty would be 10 year or 100,000 miles. More details for the car is not available at this point of time


Best websites for online auto insurance quotes
05.28.04 (4:08 am) [edit]
It is very important to find an insurance provider who offers low-priced auto insurance and the company is very secured financially. In case of claim timely payments is very necessary else the whole concept is of little help. Buying insurance at least price is of no use if the company is not stable or claim is not met promptly. Points to be considered when buying auto insurance are :-

`` Financial and personal situation.
`` Higher the deductibles lower the premium
`` Review optional coverage
`` The cheapest is not the best. Look at financial strength and consumer complaints about the company.

Some of the Best websites for [b]cheap online auto insurance quotes[/b] are:

[b]Insurecom.com[/b]

It has lot of insurance companies on its list. Once the details are filled it matches the details and gives 5 best insurance providers. The details is then passed on to the best 5 providers and they contact you with their quotes within hours.

[b]Insweb[/b]

InsWeb operates an insurance marketplace that enables consumers to shop online for a variety of insurance products, including automobile, term life, homeowners, renters and individual health insurance.

One of the best place to get best of insurance quotes. Once the details are filled it is sent to top insurance companies and one could get the quote within hours.


2005 Subaru Legacy Price and details
05.20.04 (1:44 pm) [edit]
2005 Subaru Legacy 2.5 GT is powered by 250-horsepower intercooled / turbocharged DOHC 2.5-liter 4-cylinder boxer engine while others have 168-horsepower normally aspirated SOHC 2.5-liter, 4-cylinder boxer engine. The 2005 models would have increased wheelbase from 104.3 to 105.1 In and the overall length increase of less then 2 inches.

2.5-liter 4-cylinder boxer engine produces 250 horsepower @ 5,600 rpm and 250 lb-ft. of peak torque @ 3,600 rpm. Engine features Electronic Throttle Control (ETC) system and Active Valve Control System (AVCS) variable valve timing technology that optimizes engine?s volumetric efficiency at all engine speeds. Legacy 2.5i and Legacy 2.5i Limited models will offer an optional 4-speed automatic transmission. MacPherson type strut front suspension uses aluminum
lower L-arms to reduce unsprung weight.

Redesigned interior uses high-quality materials to enhance the driver?s environment and passenger
comfort: flush surface treatments, soft foam upper dashboard, soft foam door trim and, on Legacy 2.5 GT models, performance-design front seats.

[b]Pricing[/b]:

[b]Legacy Sedan[/b]:

Legacy 2.5 i - MT5 $20,995
Legacy 2.5 i - 4EAT $21,995
Legacy 2.5 i Limited - MT5 $24,445
Legacy 2.5 i Limited - 4EAT $25,445
Legacy 2.5 GT - MT5 $25,995
Legacy 2.5 GT - 5EAT $27,195
Legacy 2.5 GT Limited - MT5 $28,495
Legacy 2.5 GT Limited - 5EAT $29,695

[b]legacy Wagon[/b]:

Legacy 2.5 i - MT5 $21,995
Legacy 2.5 i - 4EAT $22,995
Legacy 2.5 i Limited - MT5 $25,645
Legacy 2.5 i Limited - 4EAT $26,645
Legacy 2.5 GT - MT5 $26,995
Legacy 2.5 GT - 5EAT $28,195
Legacy 2.5 GT Limited - MT5 $29,695
Legacy 2.5 GT Limited - 5EAT $30,895






2005 Ford 500
05.20.04 (3:11 am) [edit]

2005 Ford 500 has Duratec 3.0-liter/200-hp 60-degree V-6 engine with 6 speed automatic transmission and variable transmission which makes the car more economical and provides good overall performance. It is one of the largest truck available. Optional safety package includes side air bags and industry-leading Safety Canopy for side impacts and rollover. Some of the good features for the car are:-

** All-wheel drive
** 1 touch power driver window
** Premium AM/FM/CD stereo system
** Six-way power adjustable seat
** Disc anti-lock brakes
** Remote keyfob entry
** Vehicle Geometry engineering


2005 Chrysler Crossfire
05.13.04 (2:48 pm) [edit]

This year, Chrysler will turn heads and drop jaws with the introduction of its new 2005 Chrysler Crossfire Roadster at the 2004 North American International Auto Show. The 2005 Chrysler Crossfire Roadster will arrive in dealerships this spring.

"The new 2005 Chrysler Crossfire Roadster is absolutely stunning," said Jeff Bell, Vice President, Chrysler. "The styling, technology and performance get the adrenaline flowing. This spring, the car to be seen in is the Chrysler Crossfire Roadster."

The new 2005 Chrysler Crossfire Roadster is low-slung with a sculpted appearance. Under the hood is a 3.2-liter 90-degree V-6, 18-valve SOHC engine available with a six-speed manual or a five-speed automatic transmission.


MSRP: $29,045
Engine: 3.2L V-6 215 HP
Transmission: 6-spd man w/OD
Warranty: 36 months - 36000 miles

[b]Powertrain[/b]

3.2L V-6 SOHC SMPI 18 valve engine
115 amp alternator
510 CCA battery
6-speed manual transmission with overdrive
Rear-wheel drive
ABS and driveline traction control

[b]Steering and Suspension[/b]

Hydraulic power-assist re-circulating ball steering
4 wheel disc brakes with front vented discs
Brake assistance
Touring ride suspension
Stability control control
Front independent suspension
Front double wishbone suspension
Front anti-roll bar
Front coil springs
Gas-pressurized front shocks
Rear independent suspension
Rear multi-link suspension

[b]Safety[/b]

4 channel 4-wheel anti-lock braking system (ABS)
Center high mounted stop light
Dual airbags with passenger front-impact side cancellable airbag
Dual door mounted side airbags
Sentry Key ignition disable security
Panic alarm
Security system


2005 ford mustang Mach 1 Premium 2dr Coupe
05.12.04 (12:59 am) [edit]
MSRP:$29,135
Engine Specs: 4.6L V-8 300 HP
Transmission: 5-spd man w/OD

[b]Powertrain[/b]

4.6L V-8 DOHC SMPI 32 valve engine
Variable intake length
5-speed manual transmission with overdrive
Rear-wheel drive
3.55 axle ratio
Quasi-dual stainless steel exhaust

[b]Other Details[/b]

Exterior Length 187.6 "
Exterior Width 73.9 "
Exterior Height 54.5 "
Wheelbase 107 "
Front Tread 62 "
Rear Tread 63 "
Curb Weight 3,450 lbs.
Front Legroom 42.7 "
Rear Legroom 31.0 "
Front Headroom 38.6 "
Rear Headroom 35.0 "
Front Hiproom 53.6 "
Rear Hiproom 46.7 "
Front Shoulder Room 55.4 "
Rear Shoulder Room 53.3 "
Passenger Volume 96 cu.ft.
Interior Cargo Volume 12.3 cu.ft.

[b]Features[/b]

Rear wing spoiler
Black side window moldings
Black front windshield molding
Black rear window molding
Body-colored door handles
Black grille
Dual power remote black outside mirrors
Front and rear body-colored bumpers
Auto off headlamps
Front fog lights
Monotone paint
Tires, 245/45ZR17 Performance standard
Wheel, 17-inch Heritage aluminum wheel (standard)
Front suspension type – MacPherson struts with gas-pressurized hydraulic struts and stabalizer bar (standard)
Rear suspension type - variable rate with rear stabalizer bar (standard)
SecuriLock™ passive anti-theft system (standard)
Remote keyless entry (with 2 key fobs and illuminated entry) (standard)



2005 Nissan Altima
05.10.04 (2:43 am) [edit]
The 2005 Nissan Altima is four door five passenger sedan.
There are 5 trims for this nissan models whose pricing and brief details is:-

[b]Nissan Altima 2.5[/b]

MSRP: $17,200
Invoice: $16,805
Engine: 2.5L I4 175 horsepower
Fuel: 24/31 mpg
Transmission: 5 speed Manual


[b]Nissan Altima 2.5S[/b]

MSRP: $19,050
Invoice: $17,818
Engine: 2.5L I4 175 horsepower
Fuel: 24/31 mpg
Transmission: 5 speed Manual, 4 speed Automatic

[b]Nissan Altima 2.5 SL[/b]

MSRP: $23,400
Invoice: NA
Engine: 2.5L I4 175 horsepower
Fuel: 23/29 mpg
Transmission: 4 speed Automatic

[b]Nissan Altima 3.5 SE[/b]

MSRP: $23,100
Invoice: $21,364
Engine: 3.5L V6 250 horsepower
Fuel: 21/27 mpg
Transmission: 5 speed Manual, 5 speed Automatic

[b]Nissan Altima 3.5 SL[/b]

MSRP: $26,900
Invoice: $24,878
Engine: 3.5L V6 250 horsepower
Fuel: 20/29 mpg
Transmission: 5 speed Automatic


2005 Dodge Dakota
05.10.04 (2:26 am) [edit]

Dodge Dakota delivers full-size pickup styling, feel and power with the only V-8 in the class. "Dakota defined the mid-size segment with more room, more comfort and more power than the competition," said Eric Ridenour, Executive Vice President, Product Development, Chrysler Group. "The all-new 2005 Dodge Dakota repeats that success and injects some Dodge Ram DNA into the design and feel of the new Dakota. Dodge buyers like the 'right size' of the current Dodge Dakota, which is more fuel efficient and maneuverable than a full-size pickup, but can still get the big jobs done. The new Dakota gives them exactly what they want, full-size pickup capability in mid-size package."

As explained in www.dodge.com

Specifications:

engine: 3.7-liter Magnum V-6
Horsepower: 210
Torque: 235 lb.-ft.
gross combined weight: 11,500 lbs


2005 MERCEDES-BENZ E320 CDI. 2005 MERCEDES-BENZ E320 Price
05.06.04 (2:23 am) [edit]


Base Price : $49,795
Powertrain: 3.2-liter, 201-hp, 258-lb-ft I6; rwd, five-speed automatic
Curb Weight : 3835 Pnds
0-60 mph : 6.8 sec
Length : 189.7 In
Bredth : 71.3 In
Height : 57.2 In
Fuel economy(city) : 27 mpg
Fuel economy(highway) : 37 mpg
Safety equipments : Front, front/rear side and curtain airbags, anti-lock brakes, stability control system, electronic brake-force distribution
Major standard equipment: Dual-zone automatic climate control, 16-inch wheels, AM/FM/CD, TeleAid, rain-sensing wipers, COMAND, fog lamps
Warranty : 4 years/50000 miles

2005 MERCEDES-BENZ E320 CDI has common-rail direct-injection diesel technology attached to a 3.2-liter inline six equipped with a turbocharger. It generates 201 horsepower and 369 lb.-ft. torque. A variable nozzle turbine and an intercooler help the turbodiesel produce 201 hp at 4200 rpm and 369 lb-ft at 1800 to 2600 rpm.

There would be just 3000 of E320 sedans comming this year. So look out for this car.


2007 Nissan Skyline GT-R sports car model
05.04.04 (2:06 pm) [edit]
As said by chief executive Carlos Ghosn the all new Nissan Skyline GT-R would be launched in 2007. Nobody exactly know what would be the specifications as it is planned to be shown in 2007 to public at tokyo motor show. Previous models of this car was only sold other then japan in Britain and Australia. But this new version is intended to be sold globally.


Mercedes-Benz C-Class C220 CDI
04.26.04 (3:05 pm) [edit]
Mercedes-Benz have given us a more powerful diesel-engined C-Class car, the C220 CDI, which replaces the earlier C200 CDI. It is not a new or a bigger engine but the same 2148cc common-rail turbodiesel that used to power the old C200 CDI and also the same which powers the bigger E220 CDI.



2004 Nissan Altima 2.5 S , 2004 Nissan Altima 3.5 SE , 2004 Nissan Altima 3.5 SL Prices , options ,
02.26.04 (9:15 pm) [edit]
[i][u][b]2.5 S[/b][/u][/i]

Base MSRP: $19,050.00
175-hp 2.5-liter 4-cylinder engine
Air conditioning
AM/FM/CD audio system

[b]Packages:[/b]
2.5 S CONVENIENCE PACKAGE $1,680.00
- 16" six-spoke aluminum-alloy wheels
- 8-way power driver's seat with manual lumbar
- Leather-wrapped steering wheel and automatic shift knob
- Steering wheel-mounted audio controls
- Speed-compensating volume
- Trip computer with multiple displays
- Automatic on/off headlights
- Dual illuminated visor vanity mirrors with sun visor extenders
- Remote keyless front windows down
- Key-operated front windows up/down
- Passenger-side front window one-touch auto-up/down
- Vehicle security system
- Cargo net

2.5 S CONVENIENCE PLUS PACKAGE $2,500.00
- Includes 2.5 S Convenience Package conents and power sliding glass sunroof with tilt feature

2.5 S PREMIUM CONVENIENCE PACKAGE $3,300.00
- Includes 2.5 S Convenience Plus Package contents and Bose® audio system

[i][u][b]3.5 SE[/b][/u][/i]

Base MSRP: $23,100.00
250-hp 3.5-liter V6 engine
17" Aluminum-alloy wheels
Dual exhaust

[b]Packages:[/b]

3.5 SE SPORT PACKAGE $1,250.00
- Power sliding glass sunroof with tilt feature

3.5 SE SPORT PLUS PACKAGE $2,600.00
- Rear spoiler

3.5 SE LEATHER PACKAGE $3,000.00
- Power sliding glass sunroof with tilt feature
- Leather-wrapped steering wheel and automatic shift knob
- Heated seats and outside mirrors
- Bose® audio system
- Leather-appointed seats
- Simulated-leather door trim and center armrest cover
- Automatic Temperature Control (ATC) with in-cabin microfilter
- Trunk lid trim
- HomeLink® Universal Transceiver
- Auto-dimming inside rearview mirror

[i][u][b]3.5 SL[/b][/u][/i]

Base MSRP: $26,900.00
250-hp 3.5-liter V6 engine
Bose® AM/FM/in-dash 6-CD changer
Leather-appointed seats

[b]Packages:[/b]

2.5 SL PACKAGE $3,850.00
- Includes 2.5 S Premium Convenience Package contents
- Chrome accent body side moldings and license late finisher
- Leather-appointed seats
- Simulated-leather door trim and center armrest cover
- Heated seats and outside mirrors
- Automatic Temperature Control (ATC) with in-cabin microfilter
- Trunk lid trim
- HomeLink® Universal Transceiver
- Auto-dimming inside rearview mirror

[b]Options:[/b]
16" CHROME WHEELS $1,310.00 available in 3.5 SL & 2.5 S
17" CHROME WHEELS $1,360.00 available in 3.5 SE
FOG LAMPS $290.00 available in 2.5 S
SPLASH GUARDS $120.00 available in all trims



Finding The Perfect Car For You
02.26.04 (1:23 am) [edit]
Your car may be the second largest purchase you make in your lifetime. You must take your time and not let it become an impulse decision. Before you go out browsing dealer lots consider the following:


How will I use my new car, truck or sport utility vehicle? A mini-van will fit fine in a large family but might be out of place in a singles life. Do you go off-road a lot but still like to carry more than 2 passengers, go for the SUV. Trucks have come along way with most comforts available in today's truck rivaling luxury cars. But do you really need that to carry construction equipment to the job site? If you do not go off-road, do not buy a 4 wheel drive truck. The extra weight will only decrease gas mileage and increase maintenance costs. Afraid of the snow? Look to the variety of AWD vehicles on the market which provide excellent traction in the snow and also more economical operation. Take a serious look at your life and find the vehicle that most compliments your lifestyle.

Color choices. This is a personal preference but rational can come into play. In warmer climates, a lighter colored car will stay cooler. Certain cars are easier to keep clean. White and black are the worst while tan, silver, and brown hide dirt quite well.

Interior options. Do you need the heated seats? Well that depends on where you live and how much winter driving you do. Leather seats can be unbearable in the summer months and generally harder to maintain. Do you listen to music often? The premium sound system might be a great idea if you do, however if you only listen to talk radio then the standard system will be more than enough.

Insurance rates. Take into consideration the insurance rates before you start you car buying quest. A Honda may be significantly cheaper to insure than the Ferrari that caught your eye last week. Talk with your insurance agent to find out about how cars are classified. Sports cars generally raise premiums while family cars tend to lower them.

Who will service the vehicle? Having a dealership close by can be a blessing. If there are no dealerships nearby, buy a domestic car which most mechanics can work on. It is also important to examine the warranty offered before making a decision.
I hope the few comments and suggestions above have given you some things to think about. Never rush into a new or used car purchase. Always take some time to think it over. If it helps, get out a piece of paper and write down the pros and cons of all the vehicle you are considering. Writing down this information is often all you need to get you thinking practically and on your way to making a good selection.




More on Volvo v50
02.26.04 (1:21 am) [edit]
The V50 Sportswagon will be produced alongside the S60 and All-New S40 at Volvo's plant in Ghent, Belgium, with first deliveries to UK showrooms expected late March or early April. Volvo plans to sell 74,000 V50 Sportswagons a year globally, including 8,000 in the UK.

On the road prices for the V50 Sportswagon range will be released later this month, but are expected to start from less than £17,500.


New Volvo V50 and V90
02.26.04 (1:18 am) [edit]
Volvo Car Corporation is releasing the first photographs of its all-new sportswagon, the Volvo V50.

With its revolutionary interior design, class-leading safety, powerful 5-cylinder engines and all-wheel drive, Volvo's newest wagon is the perfect companion for those who need a car capable of hauling all of the important stuff in their lives.

Exhilarating design for those who live life to the fullest

From the outside, the all-new V50 is unmistakably a Volvo, a modern evolution of the sportswagon design language that began with the V70 family wagon.

The all-new Volvo V50 is a totally new five-door model with aggressive lines, intelligent design solutions and a flexible interior.

"The all-new V50 is the result of a consistent design strategy, in which the Volvo character has been developed for each new model," says Henrik Otto, Volvo Cars' Design Director. "Our new sportswagon is indisputably a genuine Volvo but, at the same time, it has its own, totally individual and distinct profile - with characteristics from classics such as the Volvo 1800 ES, Volvo 480 and its most recent predecessor, the V40."

The interior is a revolution, with an ultra-slim center console - the first of its kind in the automotive world - creating an aura of exclusivity, simplicity and space.

"The center console is a design icon for the all-new Volvo V50 and S40 sport sedan," says Otto. "What sets the all-new V50 apart is the ability for the car to carry both people and all the important stuff that allows them to live their lives to the fullest. It is truly a car with a large capacity for life!"

Class-leading safety featuring Volvo's Intelligent Vehicle Architecture (VIVA)

In the all-new Volvo V50, Volvo Cars continues its innovative use of steel. In the new, patented front structure, four different grades of steel are used in an intelligent interplay to provide maximum safety for the car's occupants. "Naturally, our goal is that the all-new Volvo V50 should be the safest car in its class," says Volvo Cars President Hans-Olov Olsson.

Side impact protection is addressed by the use of extremely rigid cross members that form a three-way attachment between the leading edge of the A-pillar and the base of the B-pillar. Similar cross members are found in the rear doors as well.

This system of energy absorption, along with the new slim-design 5-cylinder engines is called Volvo's Intelligent Vehicle Architecture (VIVA), and represents a new approach to vehicle safety design.





Car Insurance: Offering quotes for all types of car insurance driving records and guaranteeing the lowest auto insurance rate possible.

Bad Credit Auto Loans: Washington state's bad credit auto financing leader.

Car Pictures and Wallpapers: Technical specifications and high resolution images of every make and model of cars

Toyota car parts - Breaker yard car parts provides gearboxes, car engines, 4x4 parts, and other car parts for brands including bmw, honda, toyota, ford, nissan, and mazda.

Civic Forums: Honda civic forum and message board

Mustang Accessories: Americanmuscle offers a large variety of ford mustang accessories. we carry mustang accessories for all ford mustangs and have an entire section dedicated to mustang accessories.

Mustang Wheels: Americanmuscle.com offers ford mustang wheels and ford mustang rims for late model ford mustang.

Mustang Parts: Americanmuscle.com offers a large variety of mustang parts. including 2005+ mustang parts and accessories.